Looks like it's a double blog day here at Knit Purl, as Sara said earlier last week we were all a little out of the game. Sorry about that, but it just means I have twice as much to share with you today!
I know this is a little late, but on October 9th I was lucky enough to be able to attend The Procession, a wonderfully staged presentation of Dayna Pinkham's hats paired with the fashions of local designers including our lovely neighbor Elizabeth Dye of The English Department.
Here are a few of my favorites from the show:
Just beautiful. The first image is Elizabeth Dye's Nevermore which I recommend everyone go and check out while she still has it in the store.
Now onto some more knitting related matters. A few days ago LeBrie, our sensational felting teacher, shared the most amazing Etsy Store with me. Isobel and Cleo makes truly exceptional couture knitwear garments and accessories. Upon investigation it seems they use a really nice mix of machine knits with hand knit details. These tights make me want to just knit my legs little Joseph Galler Prime Alpaca* homes and never take them off.
*yes, I know the originals are merino, but I have an alpaca problem.
There is also a lovely modern interpretation of a shirt dress done in pima cotton, which makes me really think of the possibilities of the Rowan Purelife Cotton 4 ply.
I think this is definitely a shop anyone looking for great inspiration should check out.
So by now I think everyone knows that in addition to my alpaca addiction I also have a ruffle problem. I'm so glad that Sara shared this top from Anthropologie: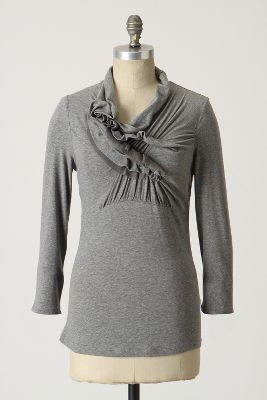 and brought this pattern for the Akomeogi Tunic by Olga Buraya-Kefelian from the Summer 09 Interweave Knits back onto my radar:

When I first saw this top I immediately fell in love. It's done in Louet Euroflax Sport Weight linen and because I love the look and drape of this as-is, I think I would stay with that yarn (but I think I would choose French Blue…or maybe Charcoal).
I'm really glad that Sara has an Anthropolgie addiction (and also glad we haven't ever shopped together because I can see that would be dangerous) because she also brought this dress to my attention: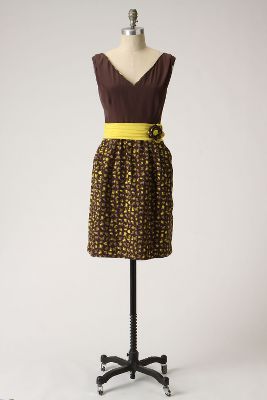 Then she shared this pattern with me for the Maid Marion Dress by Sarah Wilson and I almost fell out of my chair:
and I have to include a shot of the back because really love the drop:

I know that this isn't an exact match, but I think the resemblence is uncanny. For a few weeks I have been searching for a great pattern to fill what I think is a lack of cute knit dresses (the cabled turtleneck styles a-la Michael Kors do not count, we've seen those) and especially cute knit dresses that can work for spring. The original was made with Cherry Tree Hill Supersock Solids, I think I would probably do some combo of Shibui Sock and play with the colors. Maybe the do the body in Midnight and the band in Honey with stripes of the Honey at the bottom? Hmmmmm… I could really get into that.
So as a final inspiration of the day, I will share with all of you something that our wonderful graphic designer Jenny showed me this morning:
These treasures are the work of designer Patty Benson of Papaver Vert. Jenny showed these to me via a feature about her on Design Sponge (a really fantastic blog I really recommend you checking out), and then I went on to check out her website and she really makes the most amazing felted home accessories. Sandy Kay saw me oohing and aahing over these and brought to my attention the pattern for these great little bowls featured in the brand new Interweave Holiday Gifts 2009 which we just got in stock:
These would be so fun to make with or without the lace detail and I think they would be almost easy enough to come up with without a pattern just using Lamb's Pride Bulky or Cascade 220 doubled. I'm really inspired to go home and knit covers for all of our plants now, I hope you are too.
And so with that I leave you for today, thanks for putting up with our tardiness and stay tuned next week for another Fashionknitsta Thursday. Until then, stay chic blogfans!
-Lindsay
The post Fashionknitsta Thursday 10/22/09 appeared first on Knit Purl Blog.