Brrrrr! As I write weather.com reports its a chilly 27 degrees outside. Wonderful knitting weather I'd say, and I hope everyone is doing a lot of that this week! This Thursday I have a bunch of super-fun knitted art and accessories to share with everyone.
Last week Darcy shared this awesome link with me to Discover Magazine's feature on Knitted Science. Now a lot of these are really wonderful ideas and really interesting ways of combining the knitting and science worlds, but I have a few favorites. I really enjoyed the Crochet Coral Reef by Christine and Margaret Wertheim, the Sensory Neurons by Kelly Willits (which you can actually buy from her Etsy store), and my very, very favorite, Anita Bruce's Knit Plankton. After hunting through her website, I really love how Anita's Zoology and Art degrees have come together in a most interesting and beautiful way resulting in creations like these beautiful lace starfish: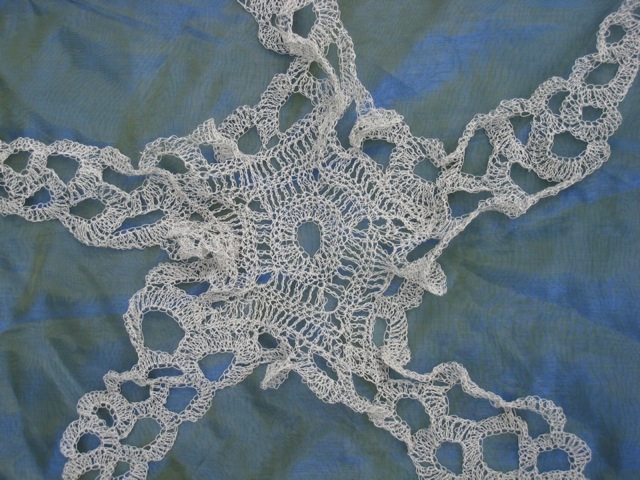 these lovely coral specimens:
and, my favorite, the knit plankton: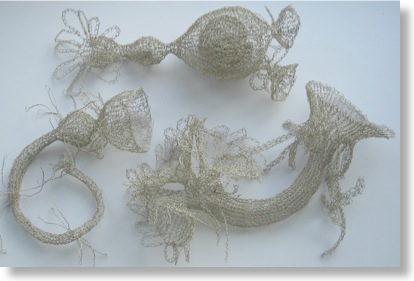 This is an image from her show Degree show in 2008:
The second two images are from Ms. Bruce's Degree show in 2008. I love how she has these really delicate and intricate pieces, yet keeps the feeling so scientific. Really beautiful work, more of which can be seen on her website, and I managed to track down her Flickr, which is also worth taking a peek at if you're interested. I know I have posted a lot of her images, but I have to share just one more, a lacework set of Octopi. One done in wire and one in fine string: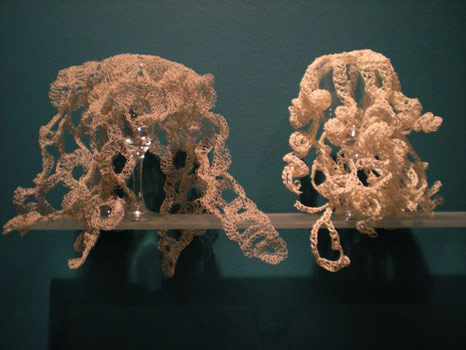 Love them!
Ok, onto the next great find. Has anyone heard of LFLECT? Jenny, our wonderful graphic designer, shared this website with me earlier this week and I'm totally obsessed. LFLECT is a brand designed by Elena Corchero in Scotland. They make hats, scarves, ties, bags, and more knit out of Scottish Highland Wool that is reflective in the dark. During daylight it's a typical (though well designed) wool hat:
BUT at night they reflect to call attention to pedestrian and bicyclist:
I've seen similar ideas, but never one this well executed. The best part about these also is that they are completely customizable. You can choose design, color, with or without pom pom. There is even an acrylic option for those allergic to wool, or Vegans. I think they really have covered all the bases. Currently these are only available at Lost Values and Bobbin Bicycles in London, and online. Really wonderful idea, now how do we make yarn that does this!?
I think by now everyone has probably seen the new line of patterns we have been carrying, Churchmouse Classics, by Churchmouse Yarns & Teas of Bainbridge Island. This line is full of wonderful accessories for both genders. Right off the bat the Welted Fingerless Gloves were the most popular, with Annabella's Cowl and the Cashmere Beret coming in at close seconds and thirds. Now, I really like all of the patterns, but the one that excited me most was the Pressed Rib Cap and Muffler Set.
It is one of my goals for this blog to not only feature fashion forward designs for women, but to also find great things for men and children alike and this is, so far, one of my favorite man things. It's always so hard (especially during the season of giving) to find a nice pattern for a picky brother, or father, or boyfriend that still has enough detail to be special, but doesn't have so much going on that it borders on feminine. This is the pattern that really fits that bill. The two color is done in a more interesting way than average stripes, and the pressing to finish really leaves it with a professional look when it's done. Can you imagine it in Joseph Galler Prime Alpaca? Mmmmm…I'm definitely adding this one to my file for future gifts.
Last on the agenda today are these cute little "knit" candles from Anthropologie that Sara shared with me: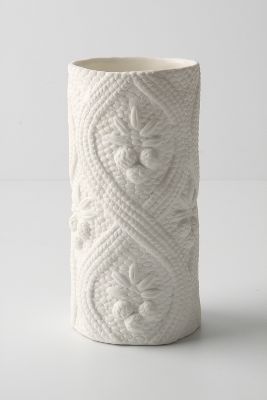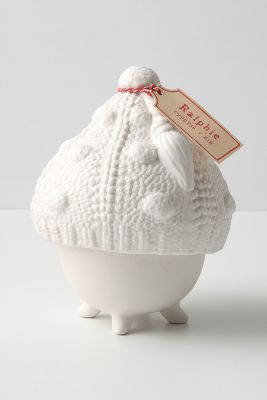 These are actually made of porcelain, but don't the stitches look real!? It makes me really want to attempt actual knit candle holders, maybe felted ones? Wool is self extinguishing right? Probably a really bad idea*, since I tend to have bad luck with fire, but perhaps taking up ceramics is an option.
*a subsequent search on Ravelry returned no results for knit candle holders not made of wire, so I think no, not a good idea.
With that I have to leave you all for another week, I hope everyone has a cozy weekend planned. Stay tuned for next week's edition of Fashionknitsta and, until then, stay chic, blogfans!
-Lindsay
The post Fashionknitsta Thursday: 12/10/09 appeared first on Knit Purl Blog.