Hello, everyone! Another Thursday is here and, with it, another edition of Fashionknitsta.  If you're a PDX local, I hope you've been enjoying this warm-ish (for January, at least) weather, as I know I have. I'm going to try something a little different today, because I've collected a couple great patterns for men and home ideas that I've been thinking about blogging about for a while. Enjoy!
The first pattern I have to share is my favorite men's sweater pattern in the store, the Zip Up Cardigan by Hannah Fettig (her name might ring a bell if you're familiar with the her Featherweight Cardigan).
The cardigan calls for a gauge of 3.5 stitches to the inch on a 10 1/2 needle, and I'd love to do this in Rowan's Purelife British Sheep Breeds Bulky. With a size range of Child's 2-16, and Men's S-2X this pattern is perfect for all the males in your life. Absolutely wonderful for those hard-to-knit-for teenage boys, this pattern is so basic, simple, and versatile I would make this for my dad, brother, or boyfriend husband.
Something I've also had my eye on for a while as a great guy gift is a knit tie. Lately I've seen good versions like this one at J.Crew, but really this is definitely a pattern even a beginning knitter could manage.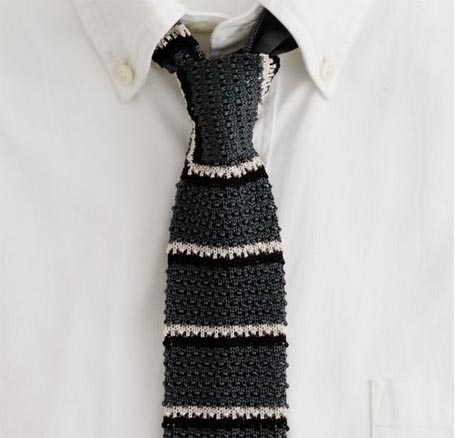 Lion Brand has free pattern for this seed stitch Knit Necktie on Ravelry. I really like the look of this one, I'd love to do it in Debbie Bliss Rialto Aran, or Shibui Knits Merino Alpaca. For a wintery version I'd also love to see it in Joseph Galler Prime Alpaca doubled.

The last pattern I have to share is one I've been thinking about for probably about a year now. I know my knitting resolution was to finish old projects and not start things, but I'm so close to finishing the blanket I've been working on it hurts. In light of that, I think its fair to take this a bit more realistically. The Cable Table Runner from the "Clever Ideas" section of Rowan Magazine 45 has been haunting me ever since the first time I laid eyes on it.

Isn't it just gorgeous? This understated and chic runner was originally done in Rowan Denim, which is a lovely yarn and practical for something on the table, but I've always envisioned it in Rowan's Lenpur Linen (color 566!). It would be absolutely fantastic to do a matching place mat set as well, simple with just the cable pattern going up the left side. What a perfect springtime project.
With that I will leave you for today.  I hope everyone has a great weekend! As always, check back next week for another edition of Fashionknitsta. Until then, stay chic, blogfans!
-Lindsay
The post Fashionknitsta Thursday: 1/21/10 appeared first on Knit Purl Blog.